When you use WooRank's Keyword Tool to track your Project's ranking in Google search results, you will also be able to track how and when your URLs appear in Google's SERP features.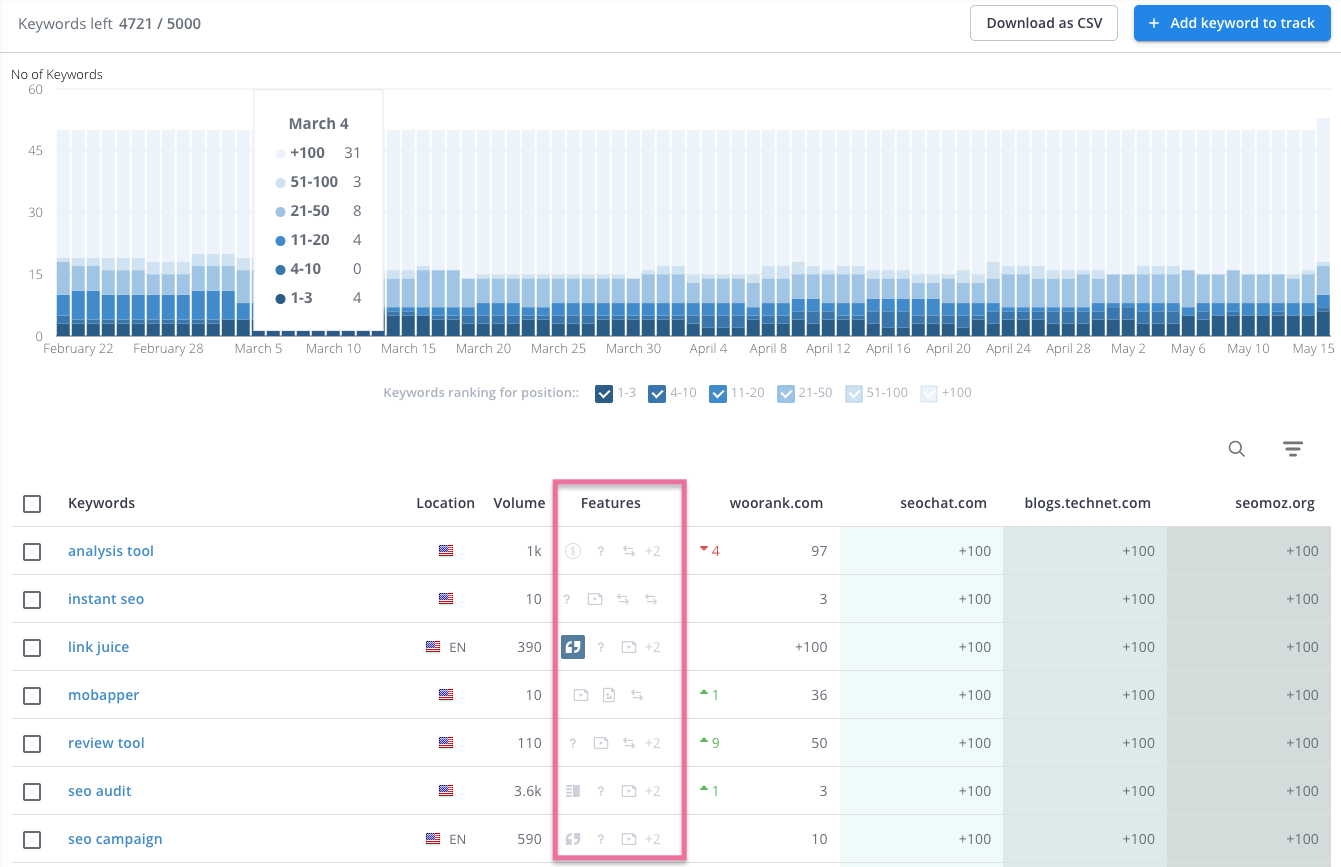 In this guide, we'll go through how to read and use the data from Keyword Tool to track SERP features for your keywords.
First a quick definition: the term "SERP features" refers to Google search results that are not the traditional "10 blue links". Here's an example of a SERP feature known as a "featured snippet" that appears for the search "how to dunk a basketball":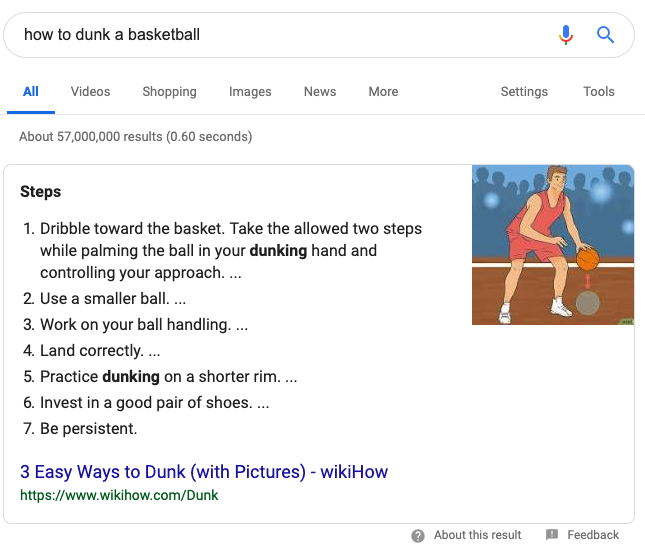 SERP features are Google's effort to help its users to achieve their goals directly in the search results. For a more detailed look, read our in-depth guide to SERP features.
Detecting SERP Features
Data for a keyword's SERP feature will be shown in the Features Column of Keyword Tool in the table below the positions spread graph: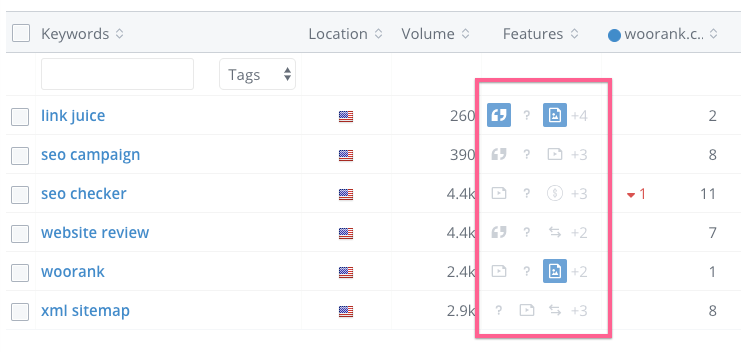 In this column, Keyword Tool will show a different icon for each SERP feature it detects for a keyword.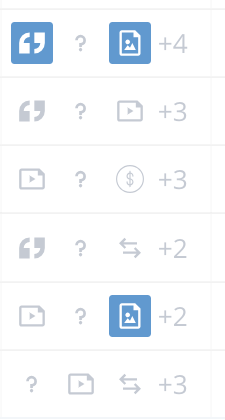 To see which SERP feature a particular icon represents, simply hover your cursor over it.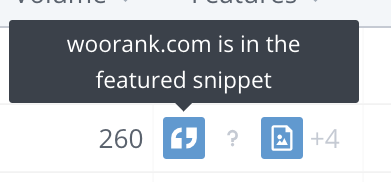 For keywords that have more than 3 features, you can hover over the plus sign (+) in the Features column to see the extra SERP features for that keyword.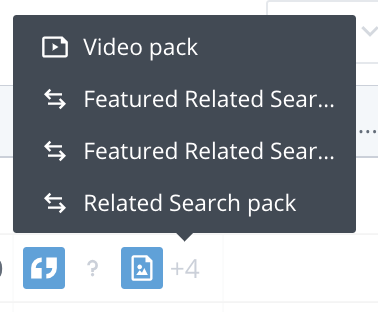 Since Google chooses which SERP features to show based on what it thinks best answers the keyword's search intent, you will often see different keywords will vary in how many SERP features they show as well as which ones appear.

Clicking on an individual keyword will show you exactly where in the results the SERP features appear. Looking at the example Keyword Tool data above, if we clicked on the "seo campaign" keyword, we'd see this: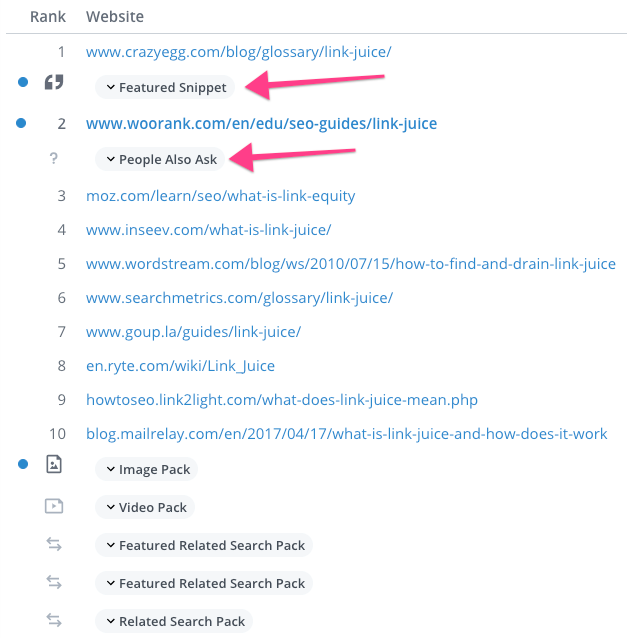 You can also click on the drop-down menu to see more information about that SERP feature.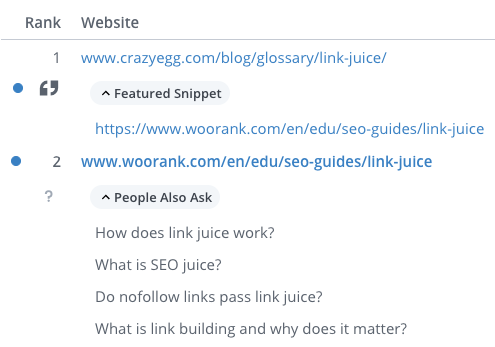 Depending on which SERP feature you're looking at, you'll see
The URL or URLs displayed in that feature

Links to the pages hosting the images displayed in the image page

Searches related to the tracked keyword

URLs shown in paid Google Ad results
Reading SERP Feature Data
Keyword Tool shows SERP feature data in 2 possible colors.
1. Gray
A SERP feature icon displayed in gray means that Keyword Tool detected the specified feature for that keyword, but the website tracked in your Project does not appear in that feature.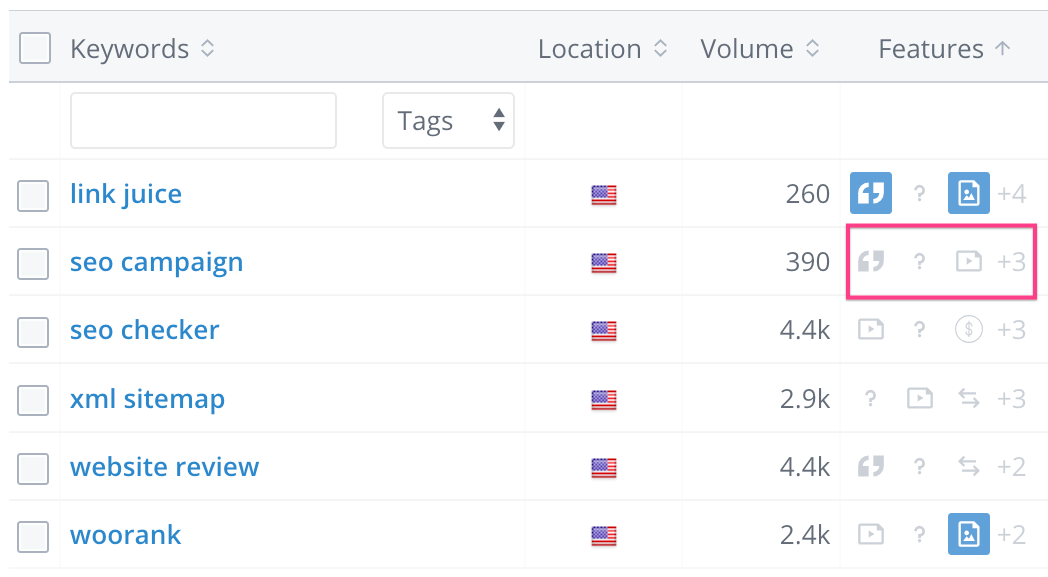 So in the example above, a search for the keyword "seo campaign" shows featured snippet, people also ask box, video pack, and 3 related search features, but the tracked website does not rank for any of them.
2. Blue
When Keyword Tool shows a SERP feature icon in blue, that means we found that feature for the specified keyword and one of the URL's from your Project's domain is appearing in that feature.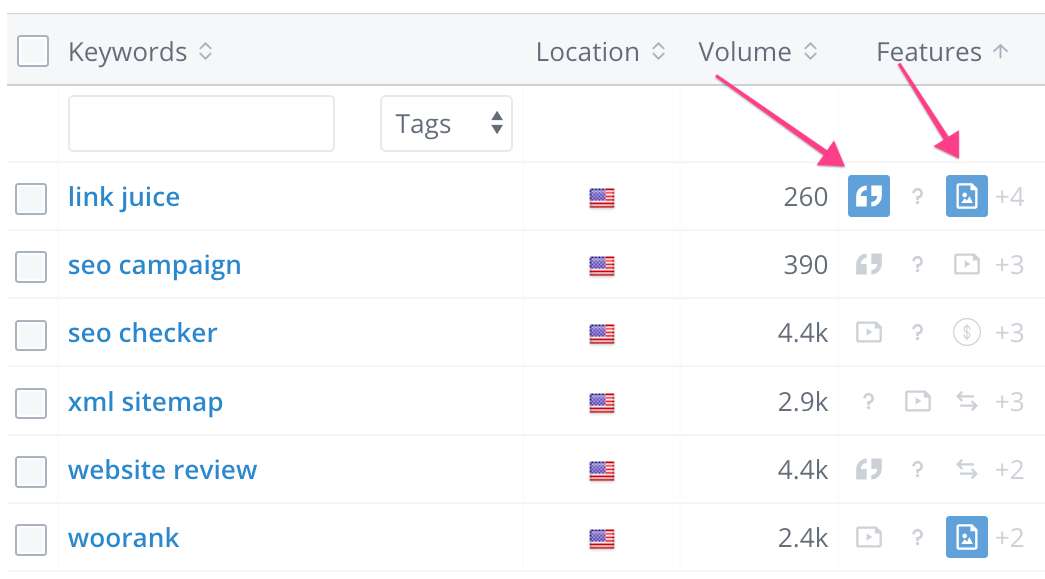 In the example above, Google is showing a featured snippet, people also ask box, image pack, video pack and 3 related searches for the "link juice" keyword and a URL from the tracked domain (https://www.woorank.com in this case) is displayed in both the featured snippet and the image pack.
When you view the top 10 results for a specific keyword, any SERP features containing links to your site are shown the same way as the organic results linking to your site: with a blue dot.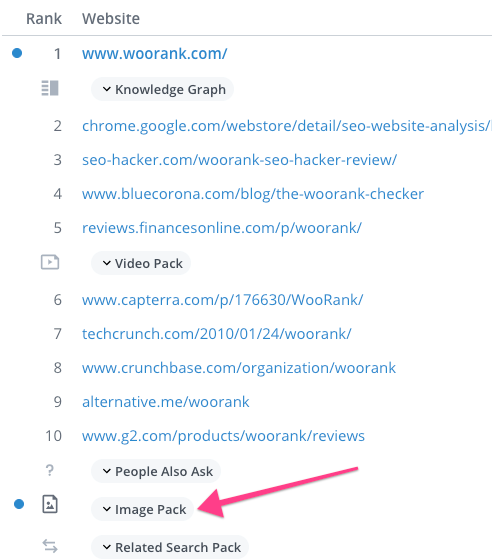 3. Teal/Aqua/Green
When an icon is displayed in either teal, aqua or dark green, that means Keyword Tool detected a SERP feature for the tracked keyword and that a URL from the corresponding competitor's website is being displayed in that feature.

In the example above, the local pack SERP feature is appearing for "dog grooming essex" and a tracked competitor is being displayed in that feature.
Hover over the colored SERP feature to the URL of the competitor appearing in that feature: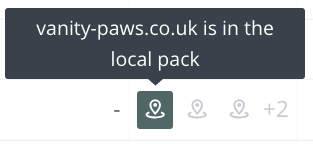 All the SERP Features Tracked by Keyword Tool
Keyword Tool detects the following Google SERP features:
Featured snippets

Top stories

People also ask

Local pack

Image pack

Video carousel

Twitter carousel

App pack

Jobs

Knowledge Graph panels

Ads

Google Shopping results

Google Flights

Answer Box

Carousel

Google Review

Map pack

Related Search Pack

Featured Related Search Pack