If you have a local business it's more important than ever to optimize your site for local searches. Not only does Google place an emphasis on local searches but optimizing your site will give you the best chance of fighting off the local competition.
Today, we're going to be explaining the importance of local SEO, how to evaluate your site for local SEO reporting and how this should be used to formulate a strategy.
What is Local SEO?
Local SEO refers to optimizing the online visibility for a business – typically with a brick and mortar store – that serves a region or local area. There are a range of different SEO tactics that can help your business achieve greater visibility of its products and services, specifically aimed at local customers.
Why is Local SEO Important
Let's look at some hard facts:
Research by

Google

found that 50 percent of consumers that conduct a local search visit the store within one day.

93 percent of Google searches have local intent

Business to Community

report that 18 percent of local mobile searches lead to a sale within one day

And a report by

Search Engine Land

estimates that a staggering 78 percent of local mobile searches result in an offline purchase.
As you can see, more and more customers are relying on the web to search for local businesses and these searches often result in a purchase online.
Important things to review before you start:
Current NAP information on your site:

Make a note of the exact business name, address and phone number (known as NAP. We'll be using this phrase a lot) listed on your site. These need to be the same everywhere you include your NAP.

Know your competition:

We'll be detailing what you should be looking for when assessing your competition for local SEO. So, if you don't already know who your competitors are, now is a good time to find out.

Find out what questions your customers need answers to:

Knowing this can help you formulate a content strategy which will help greatly with your local visibility.
What Your Local SEO Report Should Include
1. Google My Business:
Google My Business replaced Google Places a while ago and acts as your central hub for managing your online business info – as well as your online business activities across all Google related platforms, including YouTube and Google+.
If you haven't already done so head to Google My Business (GMB) and claim your business if it is already listed. If it isn't listed, create your company by following the signup process. You'll need to verify your business either by automated phone or by postcard (this can take up to a few weeks), if it hasn't already been done so.
Manage your business through the GMB dashboard, making sure that your NAP, opening hours and photos are all up to date. Check that there aren't already existing Google+ pages associated with the business listing. If there are, you can either request that they be deleted or to take ownership of them.
Of all the local SEO strategies, GMB is probably the most important one as Google refers to GMB as a site of authority and will often pull information from it – in preference to your own site – to populate the Knowledge Graph and other rich search content. Regularly updating and responding to customer reviews will also help gain Google's trust and help with ranking ability. (see more about reviews below)
2. Citations
Citations or business directories won't necessarily propel you to the top of SERPs but they are handy for gaining more exposure for local searches. Many people still use them above search engines when looking for local services and businesses so it's definitely worth including your business on these. It can also help to build domain authority by having trusted sites like these linking to your site. (Most backlinks from business directories will have a 'nofollow' attribute which means that link juice will not be passed through to your site, but most experts agree that 'nofollow' links are still a ranking signal).
Use a tool like WooRank to monitor which citation sites your business is registered with and to check your backlinks. Check that your backlinks are all coming from good quality, trusted sites with high domain authority. WooRank uses a star rated system so it's easy to spot poor quality links.
If you come across any that aren't passing positive link juice then you can disavow links in Google Search Console. Tools like Monitor Backlinks are handy as they provide a more detailed analysis of links and allow you to disavow them directly from the platform. There are citation specific tools like BrightLocal which can more accurately display citation listings for you are your competitors.
3. On-page elements
If you're serious about being found for local searches then you'll need to ensure that your location, among other things, is included on your website as a primary keyword. Make sure that the geographical area you serve is included in these vital elements on your homepage:
Title tag – include the location you cover along with the site title.

H1 Heading – Include the location in the H1 tag <h1>We are are a business offering products in Leicester, England<h1/>

Content – Since the location is a primary keyword for this page you need to ensure that it is used in the opening paragraph and at least 2 more times in the main body of content.

Alt text – Images used on this page should also contain the location keyword.

Nap – remember the information we mentioned earlier? Make sure that this information is consistent across your website and on all other external sites. NAP should ideally be included on every page of your site.
Again, the WooRank tool is a really handy for auditing keywords used across the above on-page elements.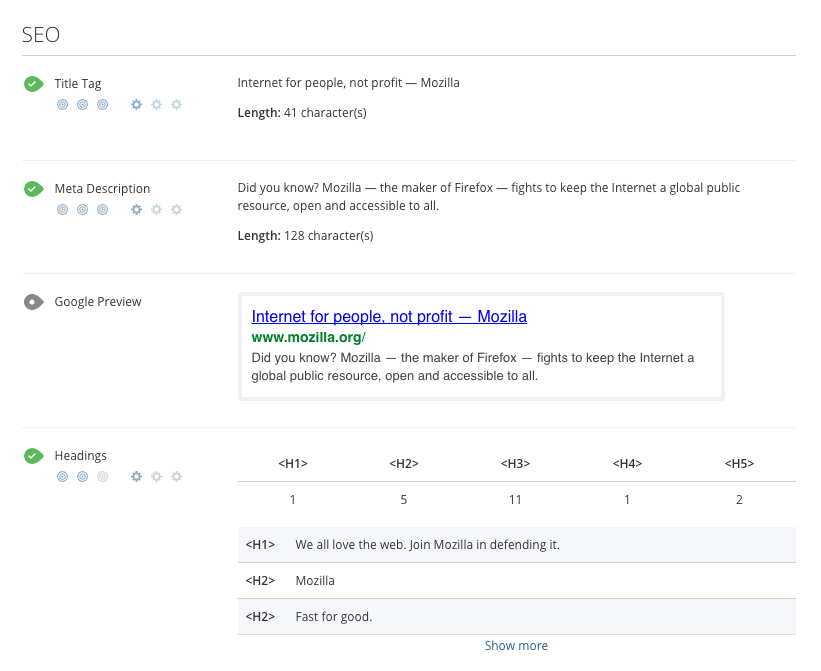 If your location is missing from any of these elements – report on it and action it.
4. Review analysis
Reviews are crucial for securing local business. 92 percent of consumers trust peer reviews, so make sure that you have a good number of reviews.
If you've only just claimed your business on GMB, don't worry – think about developing a strategy to canvas more Google reviews. Offering your customers an incentive to leave a review is a really good way of encouraging feedback.
If you receive any less-than-brilliant reviews, remember to respond to them via your GMB dashboard asap. Responding with a messages thanking customers for their feedback and maybe offering an explanation as to how you will improve, or a promise to get to the potential root of the problem that may have resulted in their bad experience, will hopefully counteract any negative reviews. Potential customers will value an honest response and appreciate that you have taken their feedback on board.
Facebook reviews are also important as these can be retrieved by Google to populate Google's Knowledge Graph. Again, respond to reviews as soon as they come in – even if they are rave reviews you should respond – even if it's just to acknowledge it and say thanks.
5. Social Media Analysis
Social media can have a massive impact on your local SEO efforts and an analysis of your social media activity should therefore be performed. If your business is not on social media, here are a few facts about the potential impact social media can have on local searches:
Adweek estimates that 81 percent of consumers conduct online research

before purchasing

and this could mean that consumers are leaving no stone unturned.

According to

Ambassador

, 71 percent of consumers who have had a good social media experience with a brand are likely to recommend it to others.

More interestingly, 95 percent of Millennials expect brands to a have a

presence on Facebook

.
Not only should these statistics be convincing enough, but social media profiles – as trusted, high authority sites – are often used to populate the Google Knowledge which is often used for local searches.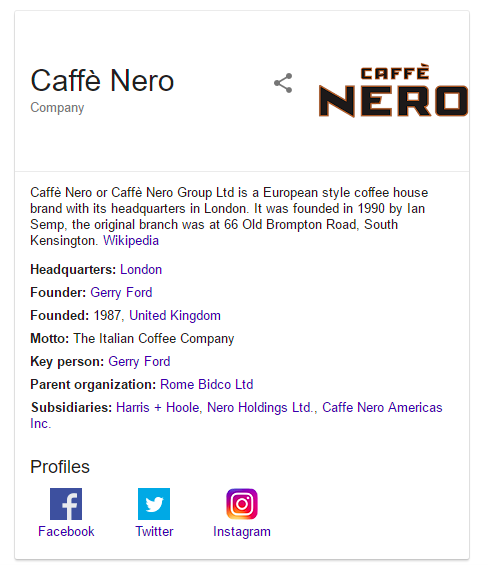 Take note of the social profiles that are being included here.
In terms of local SEO, the most important thing to check is the NAP information across all platforms. Make sure that these are all consistent, as Google does check for inconsistencies as a ranking signal. I know we keep repeating this – but it's pretty important. Also make sure that you manage your brands on each of these platforms ensuring that content is altered to fit the audience that you are trying to attract. Avoid copying your bios from one site to another as this can be flagged up as duplicate content which can cause issues.
Be active, be consistent and definitely make sure that you have a Google+ page, above all else.
6. Competitor analysis
We recommend conducting regular competitor analysis to inform your business strategy and to maintain a competitive edge. For your local SEO report, concentrate on examining the backlinks of your competitors. Again, tools like Linkody are great for spying on the competition. Check to see which citations they have listed so you can include your site too. This will ensure customers searching for local products will see your business listed here, too.
Competitor links should also provide important insights into their strategy, such as the content they are creating that is able to generate a lot of backlinks. Think about how you could repurpose this and make it better.
Check your competitor's domain and page authority and see how you compare. If they are achieving high authority this may indicate that you need to develop a content strategy or a backlink strategy so that you can improve yours. Similarly if your competitors are active and able to engage with a large audience across social media then use this information to inform your long-term strategy.
Developing a Strategy
Use this guide above to formulate your own local SEO report. By investigating key areas such as social media, competitors, citations and NAP consistency, you should be able to identify quick fixes and longer-term plans.
Social media, content creation for attracting backlinks and generating trust, and building backlinks are not quick fixes and should be carefully planned to maximize impact. Look at your competitors' activities for inspiration and plan your approach carefully.
Ultimately, local SEO is about making it easier for your customers to find you. So get to grips with auditing your site for local SEO and reporting, and you'll soon reap the rewards.