As we've discussed in the past, SEO is a vital part of achieving your digital marketing and business goals. But when you're getting started improving your website's SEO or setting up a new site for SEO, it's easy to get lost in the day-to-day grind of technical audit, on-page optimization, and link building.
So how can you make sure that you're actually on track when it comes to SEO success?
Through SEO reports.
Annoyingly for beginners, SEO reporting can be a bit intimidating. I mean, look at all the different things you can mix and match to create an SEO report:
Website traffic

User behavior

Keyword rankings

Landing page performance

Technical issues resolved

Overall marketing performance
Add that to the fact that you're still wading into a new marketing channel on top of actually running your website and business, and it's easy to put your SEO reporting on the back burner, week after week.
But here at WooRank, we know flying blind is a recipe for terrible rankings. That's why we've got our guide to creating SEO reports for beginners.
What to Put in Your Beginner's SEO Report
The key to creating good SEO reports is deciding at the beginning what you want to report on. No matter what stage you're at in your SEO, or whether you're doing weekly or monthly reporting, there are six things you should track in all of your reports.
Website traffic
The first, and probably the most obvious, thing you should include in an SEO report are changes in your website traffic and user behavior metrics. While these numbers are the be-all and end-all metric when it comes to SEO reporting, they're still really, important.
Ideally, you'll be tracking website visits, as well as new visitors, on a monthly and weekly basis.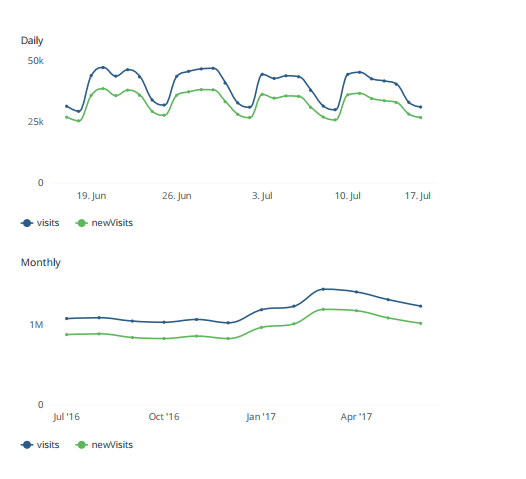 Audience engagement
You also need to be tracking user behavior on your site such as page views and average time on site. These metrics give you insight into how much your audience engages with your website and content - something that Google looks at as well.
Traffic source
Finally, monitor your traffic by source. This is especially important if you use multiple marketing channels such as…
Social media

Email newsletters

Paid search and/or display

Affiliate/referral marketing
If your organic traffic is way lower than your other channels, you've got an SEO problem. Conversely, if it's way higher, congrats!
Landing pages
Total visits and high audience engagement are great and all, but conversions is really where it's at. Driving conversions is the whole point, really. Since SEO landing pages are optimized for one keyword (or topic) per page, tracking traffic and conversions by landing page will give you great insight into the performance and ROI of your SEO.
Pick your most important landing pages (could be product revenue or profit, conversion rate, or some other way you measure value), and track changes in traffic and conversion rates to track the business performance of your SEO.
Keyword rankings
Keywords absolutely still matter. And keyword rankings do to.
So keyword rank tracking and reporting matters, too.
Now, there are a couple of ways you can report your keyword rankings. You can go the route of including the keywords with the biggest changes (both up and down), or you can include just your most important and valuable keywords.
We recommend reporting on keywords with the biggest position changes, as this method will give you the best insight into where things are going right and what could use some extra attention.
There's a reason we use this method in our Weekly Email Digest.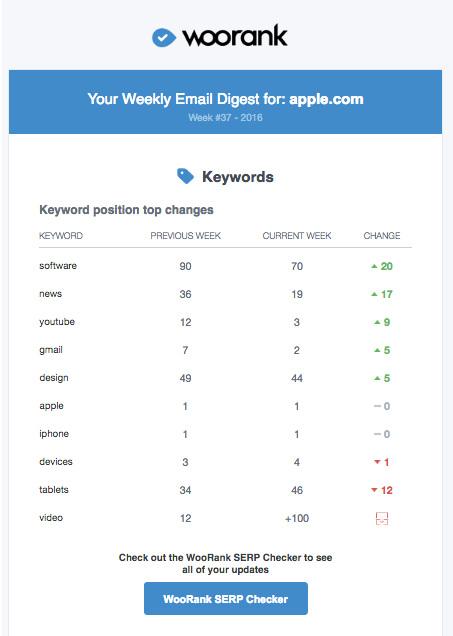 Technical SEO
The technical aspects of your website have a large role to play in your ultimate SEO success or failure. So it's worthwhile tracking your website's technical SEO ups and downs. In fact, if your website is failing to gain traction in search results despite having solid off-page SEO and content, you've likely got a technical problem.
Include a section in your SEO report tracking crawl errors from Google Search Console, 404 errors, bad redirects, and pages disallowed by your robots.txt file.
Make It Easy on Yourself
The big issue with SEO reporting, especially for those of us new to SEO, is that to get all this data into one report means going to different places:
Analytics acquisition report

Google Search Console

Your email and/or PPC platform

Facebook, Twitter, Google+ and other social media platforms

Analytics behavior report
And then you have to export and copy that data into your report template.
Unless you're a WooRank Premium subscriber.
With WooRank, you can quickly and easily create your SEO report template, totally customized with whatever metrics you want. And when it comes time for reporting, just click the download button.
It's so easy!
To format your template, just log into your account, click on the user icon in the top right and click "PDF Templates."

Then, all you need to do is create a new template, and start personalizing it.
You can add keyword rankings and position tracking pulled from Keyword Tool.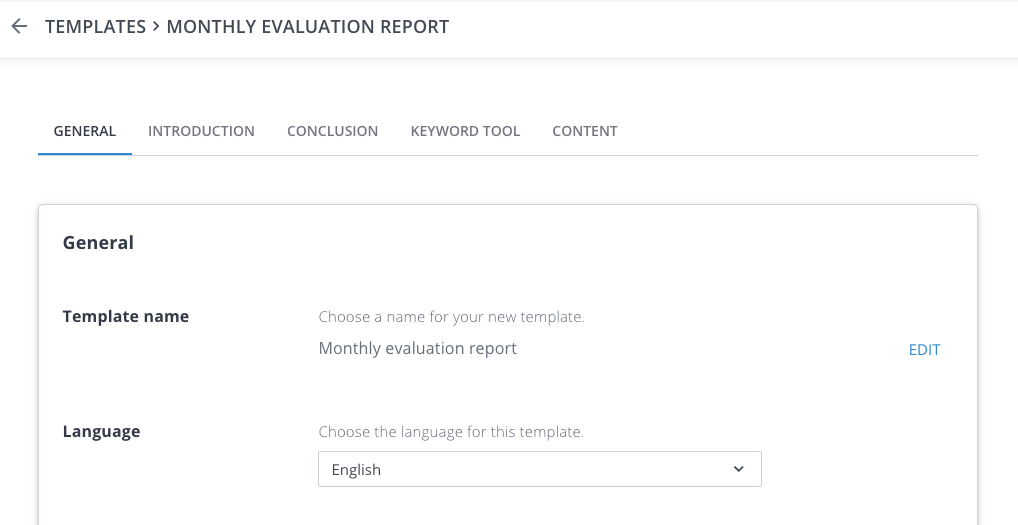 Not only is the content of the report totally customizable, but so is the look and feel of it. Make it your own with custom logos and colors, footers and signatures. Does your report need a bit of context, or do you want to include notes detailing campaign progress and work covered in the reporting period?
No problem. Create a custom cover and closing page to provide some extra analysis.
See? It's easy.
Move on to More Advanced Reports
Once you've run your beginner's report a few times and have learned how best to work with your data, it's time to start creating and using some more advanced SEO reports. 
However! Just because they're more complex doesn't mean they're hard to do or take a long time. Here's how to build some great SEO reports quickly and easily.