Using Keyword Tool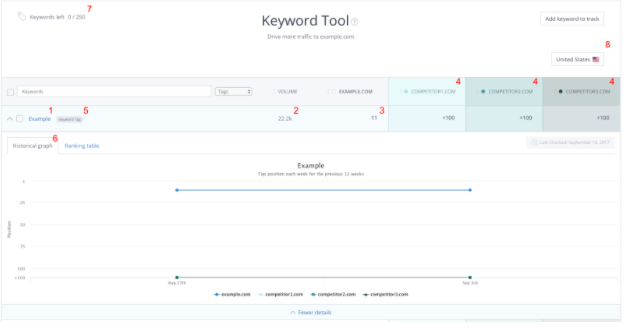 Keyword: this is the keyword you are tracking
Volume: The number of average monthly searches using this keyword
Your ranking: Your website's weekly average position for the tracked keyword. Position change is indicated by green and red arrows.
Competitors: These are the average positions of your competitor websites for the tracked keywords
Keyword tags: Sort and filter your tracked keywords by custom keyword tags
Historical graph: Track the change in position for your website for the previous 90 days. This graph is updated weekly.
Keywords left: The remaining number of keywords available to track, according to your plan.
Google domain: Choose which Google domain and language you want to track your keywords in.
Note: Each Advanced Review comes with 50 keywords. With a Pro plan, you can track up to 50 keywords or keyword chains in your Advanced Review and with a Premium plan you can track up to 250 keywords and/or keywords for all your 5 Advanced Reviews. 
Now that you're set up with Keyword Tool, move on to more advanced SEO with Site Crawl.