When you enter your domain into the WooRank generation bar, it creates a review of your entire website. However, you can also create reviews of individual pages.
It's easy!
Once you've created a review of your domain, click the text field under the Internal Pages section. This field is just below your Marketing Checklist: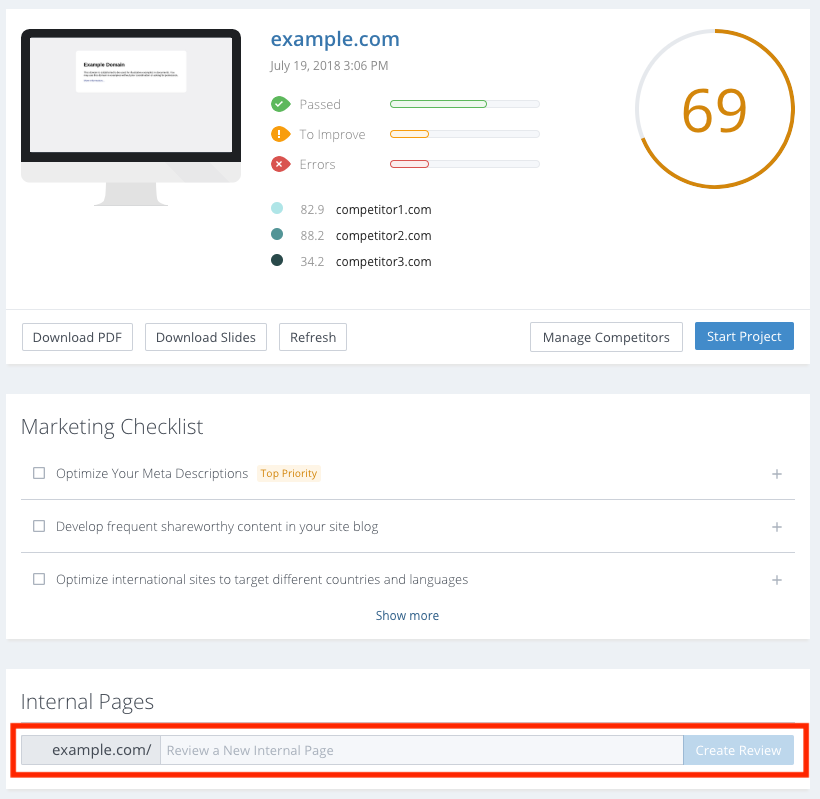 Simply enter the internal page's URL into the field and click the "Create Review" button:

Your internal page reviews work on the same basic principle as regular Review with just a few minor differences.
The biggest difference you'll see is that internal pages receive letter grades instead of numerical SEO Scores:

The next difference you'll notice is in the body of the review. Since certain criteria really only makes sense on a domain level (like robots.txt, discovered pages or custom 404 pages), we've removed them from the internal page audit.
However, criteria, status indicator colors and advice all work the same way as Reviews.
Please note, if you enter an internal page URL in the normal review generation bar on your Account Overview page, we'll automatically create an internal review for that page. However, it will not create a Review of the domain. To create a Review (and then a Project), enter your site's root domain in the generation bar.
Now that you've reviewed your site, added your competitors and reviewed your internal pages, let's learn a bit more about your site's SEO Score.